So Many Bags!
Tote bags, pocket books, purses, handbags, clutches -- there are so many different types of bags out there! We live in a world where we have so many choices when it comes to fitting our entire life into one accessory-- at least for many of us that is what carrying a bag around is all about. This is what I like to call Mary Poppin's syndrome: it is amazing how we can fit a million different things in our bags, however when it comes to finding that ONE thing that we really need we can't find it (i.e. the lipstick hidden at the bottom corner of your bag that you've practically turned inside out)
But I do love a good bag, don't you!? During some spring cleaning, I discovered that I have about 10 of them. I think that is a relatively decent number of bags to have considering most of them are just different enough and here's the thing, I don't use them all. But I still need them because you just never know.
Like many women, I rotate my bags depending on my outfit or activity. While it's great to have so many to choose from, I can't tell you how many times I've forgotten to transfer something from my old bag to the new one, only to realize hours later that I forgot my wallet or driver's license. I know we all face this problem, and my most recent solution is to use a smaller bag. 
A Brief History of Bags
Purses were the first type of bag that women and men carried with them, which simply consisted of coins. The origin of purses dates back to ancient Egyptian times! Archeological discoveries found a 5000 year-old preserved mummy with a "handbag" next to him. Think Tutankhamun with a cute gold clutch filled with gold coin and jewels. 
During the middle ages purses were popular among both men and women. They were used to carry coins and were made simply, from drawstring and cloth. These purses would be attached at the hip or hung across the shoulder, similar to purses today. Eventually, a metal clasp and frame would be introduced for purses carried by the elite. Bougie, ain't it? 
Purses continued to be a popular bag design until the 19th century and eventually, suitcases or travel cases in various sizes paved the way for handbags. By the 1930's satchels and clutches were introudced. Bag materials varied and during WWII a metal frame was replaced by wood or plastic due to the high demand for metal to support the military.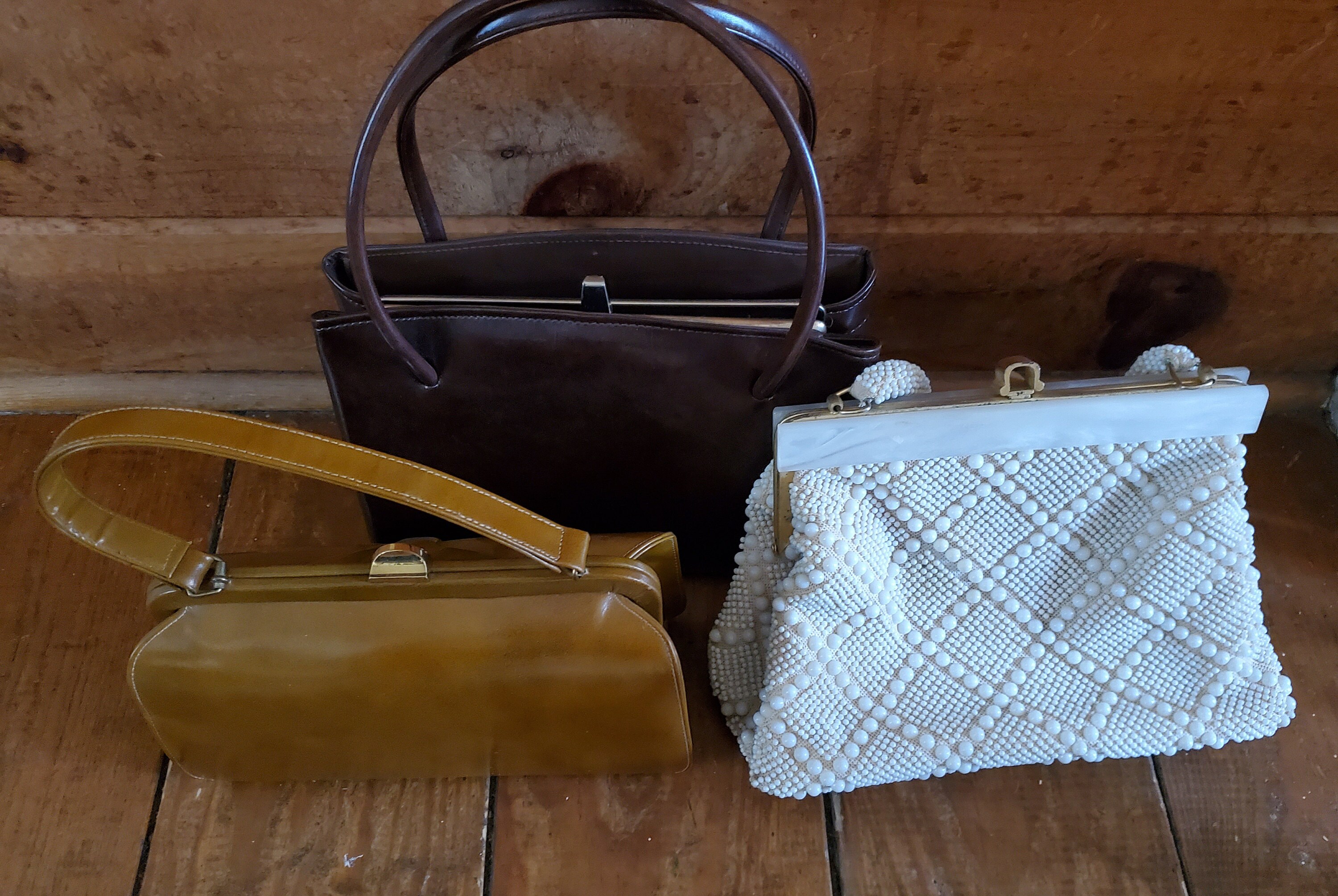 Just a few of my collection of vintage bags/purses. 
What Fits in a Vintage Bag
Vintage bags, purses, clutches etc. tend to be on the smaller side. Most women weren't carrying around their entire lives in their bags, unlike the modern woman of today. The larger bags that can be found today have simply been modified to allow us to carry larger items such as our cell phones, tablets, and even laptops which have practically become extensions of our physical selves. Not being able to fit our phone is not negotiable.
As someone who has a few vintage bags, I needed to ask myself what was essential to carry in my bag? Naturally there are many items that anyone might consider "essential" but I wondered what does the modern woman actually need to carry in her purse? This question led me into a little research project to discover what women in the 40's and 50's might have found essential. Those items consisted of the following: 
lipstick 
gloves 
compact mirror
small perfume bottle
handkerchief 
mints 
cigarette case 
glasses/sunglasses
Gosh, life seemed easier then. Judging by a woman's purse anyway! I think we can agree that a few of these items are still deemed necessary. So to have a little fun I decided to try just carrying a few of these items in my vintage bag, but with a twist. 
Trial and Error 
From the list above, I decided to put my own modernized flavor on what I deemed as "essential" for my vintage purse. 
Lipstick -This was an easy thing to keep in my purse. In keeping with the theme, I threw in my Tangee lipstick, which if you've never heard of before, is a lipstick that goes on clear and gradually transforms to suit your natural lip color. It has been used by women for over 100 years (need I explain why?) and was very popular in the 1940s. 
Handkerchief - I'm pray to allergies, especially in the spring, and having tissues in my bag has become important, but disposing tissues one after the other is a) not eco-friendly and b) annoying. On my wedding day, my videographer gave me a vintage hankerchief. She said it was customary for her to give a gift to all her brides and she really hit the nail on the head with this gift-- it was perfect! It may seem a little old-fashioned, but to be honest I love having it in my bag. It worked then and it certainly works now. 
Compact Mirror/Cigarette Case - This one is a huge win. Having a compact mirror is clutch especially when you are on the go. I don't smoke, but I found a vintage cigarette case that contained a small compact mirror and the best part is that I can stash some cash or my credit cards in the cigarette case instead of carrying a huge wallet! I hate having a huge wallet and finding a way to save space, yet at the same time show off my flashy vintage piece is a major win. 
Eyeglasses/Sunglasses - I wear reading glasses and sunglasses. Having saved wallet space I can manage to fit both or just one pair in my vintage purse thanks to the cigarette case/wallet. 
Mints - A small tin easily does the trick. I can even stash 2-3 in my cigarette case -- can you tell how much I love that cigarette case? Let me tell you about it...
Perfume - I love a good perfume and from time to time, depending on the occasion. I like to bring a small bottle or roll-on with me. I suggest a roll-on since it takes up almost no space at all. 
Cell phone -Okay now this essential item is tricky. Every year cell phones seem to slowly grow to the size of an entire vintage bag, so this is a problem. Having slimmed down to the few items above, I can somewhat manage to fit my cellphone depending on how big the bag is. If it's a clutch-- not happening. If I'm lucky I can take off the super bulky phone case (butter fingers) and easily slip my phone in...naked and vulnerable but hey, it fits! The alternative? Well, the truth is you may have to stash it in a pocket, have someone hold it for you (what are lovers for anyway?), or go back in time and leave the cell phone altogether. I've opted for going back in time on occasion and yes, it is liberating albeit difficult.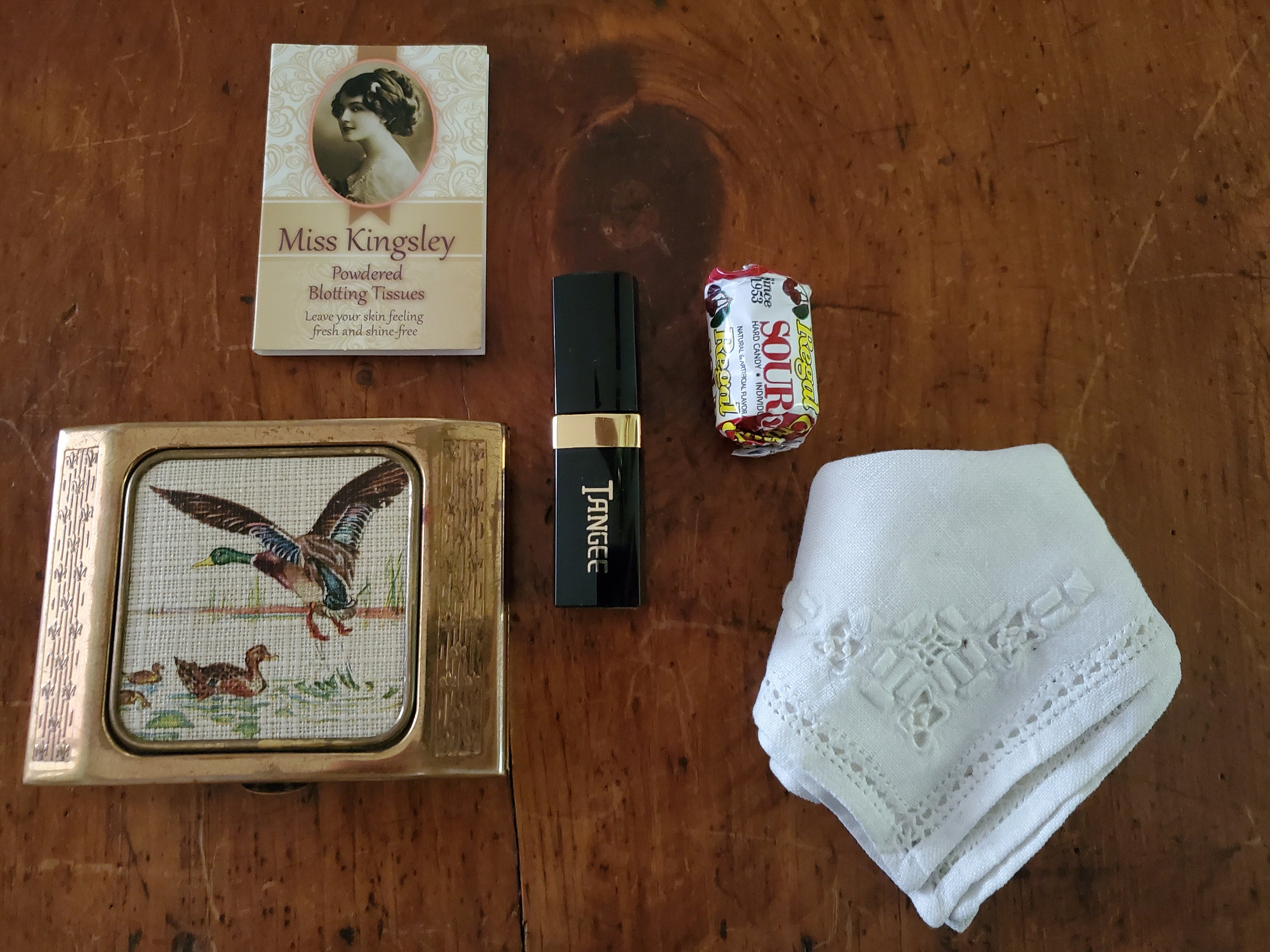 In order: 
Vintage 1950's Gwenda cigarette case with compact mirror from Dayna Art Vintage
Miss Kingsley Powdered Blotting Tissues ,Tangee lipstick, and  Regal Crown sour candy from The Vermont Country Store
Vintage hankercheif from my incredible wedding videographer , Garden House Films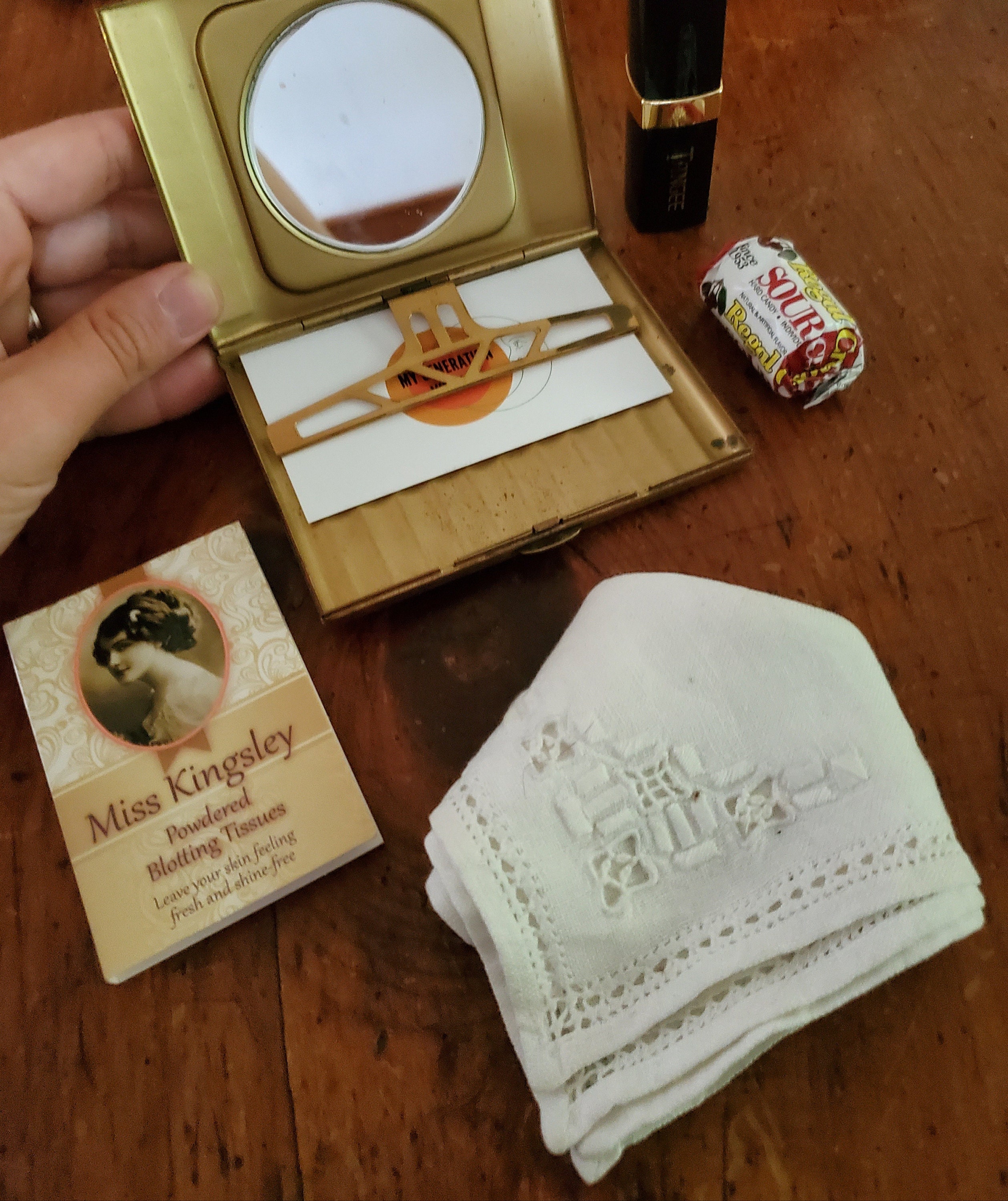 Pictured here are some of my favorite things to carry around in my vintage bag 
The Everyday Bag 
So, can a vintage bag be an everyday bag? I think that depends on you and what you feel you need to carry with you. I certainly don't use a vintage bag everyday, but on the occasion that I do, I just simplfy what I carry. All-in-all simplfying what I carry in my bag has made it easier to find what I am looking for, which is obviously a bonus. And simplifying definitely has it's benefits, less stuff usually means less stress and less weight and less lost items. But while a vintage bag may not be an ideal everyday bag, it certainly is a heck of a lot of fun to switch it up.